U.S. Drones to Fly Over the Caribbean Sea
July, 24 2012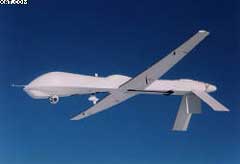 Washington, Jul 24.- The U.S. Department of Homeland Security (DHS) plans to monitor the Caribbean Sea and Gulf of Mexico using drones to combat the smuggling of drugs that targeted to the USA.
After 18 months of testing, DHS implemented the controversial program of unmanned aircraft known as drones, used in other areas as instruments of intelligence and espionage under cover of fighting terrorism,drugs and illegal immigration.

According to Fox News, the U.S. Customs and Border Protection asked the federal government the sum of 5.8 million USD to carry out new operations with drones.

The decision to use drones arose after Janet Napolitano, Secretary of U.S. Homeland Security, met with senior officials of the governments of the Dominican Republic and Puerto Rico, who were concerned about increased drug trafficking in the Caribbean waters.

The drones are currently used in spying missions, mainly in areas of conflict in the Middle East and Asia. (Radio Cadena Agramonte).
Feed
News ...